Join me for a walking tour through the unique Old City of Vienna. Together we will explore and discover the stories, legends, and tales in the old part of Vienna.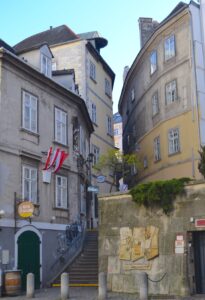 In the city's first district, we will see the walls from the 12th century. I will tell you about the legend of "Dear Augustine". Also, I will share stories about life in the metropolis that was the center of the Holy Roman Empire for more than 600 years.
Vienna and music: A walk through Vienna is impossible without visiting one of the houses where the maestro Wolfgang Amadeus Mozart lived, which is a Museum now. This is the best place to talk about Mozart's legacy that moves Vienna's concert scene today.
Coffee and croissant: In one of the alleys, we will discover how coffee has become an everyday ritual and since when bakers in Vienna have been baking the popular croissants and pretzels. Coffee culture today and one of the oldest coffee houses where both Mozart and Beethoven performed are as well on our map.
Get a closer look at Vienna's most interesting and unique sites, and learn about the city's long history and diverse culture on a walking tour with the Viennese tales.
After ca. two hours, our journey ends at the Cathedral of St. Stephan in the city center.
To reserve your place on the walking tour through the unique Old City of Vienna don't hesitate to contact me.
I'm looking forward to seeing you in Vienna!
Sincierly Yours Mirko!
Key facts:
Meeting Point:  Hafnerstieg
Pay as much as you will.
The tour lasts 2 hours.
Monday and Friday 11 am.
Language: English